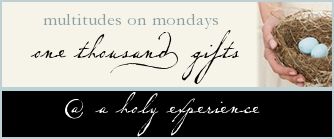 My dear friend, Amy, gave me a book that is already changing my life. Have you heard of One Thousand Gifts by Ann Voskamp? She shares about a challenge from a friend to name one thousand things to be grateful for and how Thanksgiving can change how you view life, how many times in scripture we are admonished to come to Christ with Thanksgiving then with our petitions. And how God will fill the viod this world of complaining leaves when we ask Him to fill us with Thanksgiving. She has a beautiful blog at aholyexperience.com where she is way beyond one thousand gifts, and counting.
So the challenge is to begin our own list as we go through the day, here is the beginning of mine. Join me in Thanksgiving for the small and great of God's blessings.
Yelling children in the freezing cold pool!
Tears that mean I still care
Blue eyes and wet spickey hair on an 11 yr. old boy
A quiet house
Warm sunshine after long cold winter
Cold raw milk from a neighbors farm
Completed portfolios!
Cool evening breezes on the porch
Blessings on your weekend, how about making a list of your own?
The Keeper